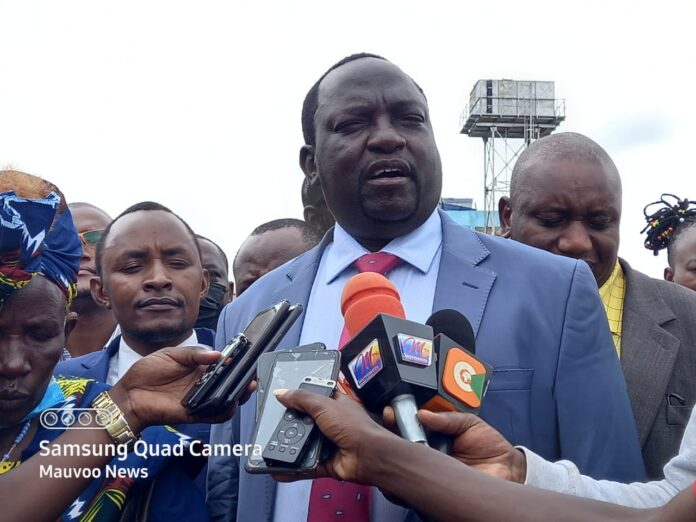 Mavoko MP Patrick Makau has hit at former Transport CAS Wavinya Ndeti who is running for Machakos Gubernatorial Seat telling her to go back to her political party, CCU since she has no room in Wiper.

"You've been going all over saying that you have the ticket in your pocket. I am sorry. We have been in Wiper and we know who is capable. Go back to CCU it's still alive and leave me in Wiper."Makau said.

Makau went on telling Wavinya that what matters in politics is strategy, but not the number of times she has asked for the seat and failed and that her votes of 2017 had not been locked at a store waiting for her in 2022. Being Wavinya Ndeti's relative, Makau said that he can't allow his own relative to suffer under his watch telling her to step aside and support him win the battle.
The vocal legislator dismissed Deputy Governor Francis Maliti and Speaker Florence Mwangangi Gubernatorial bids accusing them of being accomplices to the theft of Machakos county resources.
"If you have been Finance CECM and Deputy Governor and you have failed in your work, how can you ask for the Governor seat. Never step here to ask for the seat. If I become Governor this year, you will head to Kamiti… We have not seen the speaker going to court to say Machakos resources are not being used well. For two years we have not had any monies going to development and the speaker has done nothing. It means she is an accomplice to the theft in Machakos." Makau added.
The tough-talking politician also took a swipe at Nzioka Waita for saying he would ban Muguka in Machakos if elected.
"I was very surprised someone saying he will ban Miraa on the first day if he is elected."Before you ban, ask yourself ask why those using Muguka use it, it's because they have no jobs. Tell them how you will give jobs before you ban it. Cigarettes kill more people than Muguka if you are man enough close BAT and Kenya breweries. In my manifesto, I said we will create employment and youths will do away with Muguka. Don't tell us you will do away with what we use for recreation." The MP went on.
Check out the Full video on our Youtube channel;