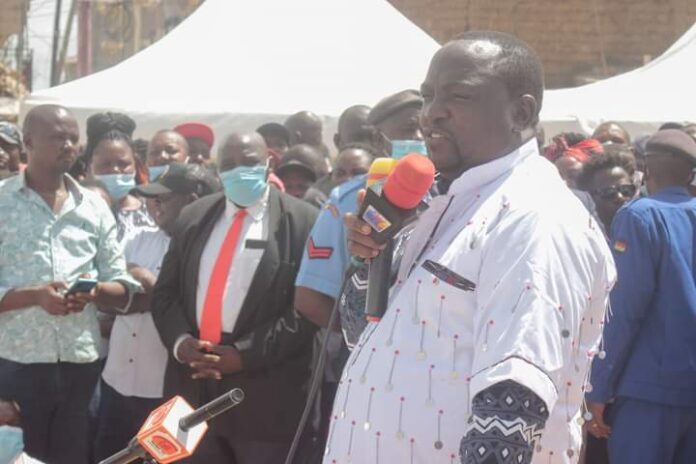 Mavoko MP Patrick Makau has watered down the gubernatorial bids of Machakos Speaker Florence Mwangangi and Transport CAS Wavinya Ndeti.
Makau who spoke while issuing bursary application forms in Mlolongo said he influenced the appointment of Wavinya Ndeti as CAS and that of Florence Mwangangi as the Machakos County Assembly speaker. The Mavoko MP accused Wavinya of taking credit for projects in her ministry which commenced before she was appointed and lobbied by others.
"You can ask Wavinya and you can ask Kalonzo, who proposed her to be CAS… it is me. We also said Mercy Mwangangi be given a CAS position because of the youth factor. That was in March 2020." Makau said.
"We had worked in 2018 and 2019. I brought KURA to do Daystar road and other roads. When she stands to speak nowadays, she says 'I'm CAS of Transport with 5 departments and the position is bigger than that of a governor.' If the position you are holding is bigger why are you coming to compete with the people who proposed you to be appointed?." Makau went on.
On Machakos Speaker Florence Mwangangi, Makau said she lobbied MCAs to vote for her so that she oversights Mutua.
"I paid my money to MCAs and took them to Stoni Athi to vote Florence Mwangangi as speaker. We wanted someone who could hold Mutua's horns so that he works. She has felt the sweetness of county money and instead of supporting me because I stood with her, she is now running all over. She has never been elected anywhere." Makau added.
The MP further asked Machakos County Police Commander to enforce the warrant of arrest on Deputy Governor Francis Maliti issued end of last year by the courts.
"He must be arrested and pay those young men and women their dues before he even comes to ask for the Governor seat. He has handled 60 billion as CEC Finance and he gives you only 500. Look at the roads at Gossip, police lane, and Syokimau. Here is your son (Makau) the most handsome man in East and Central Africa." Makau said asking the locals to stand with him in the Gubernatorial race.
Makau asked Kalonzo to get Wavinya CAS job again and Florence Mwangangi another job.