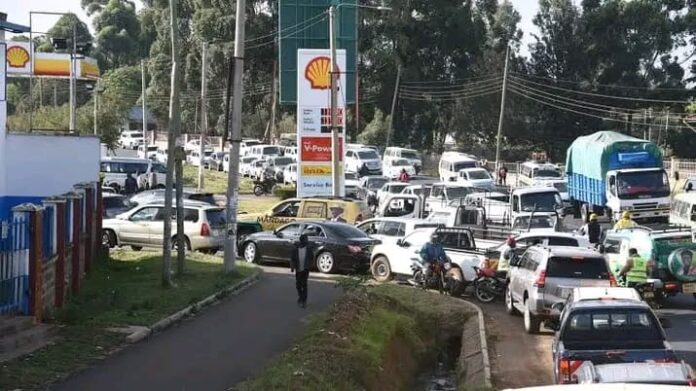 The ongoing Fuel shortage in the country has not spared Machakos County either. Mauvoo News visited Shell petrol station in Machakos, the only Petrol station that had fuel to check on the situation.
Motorists were forced to line up for hours before getting fuel which they said was being rationed with some forced to fuel for 1000 or 2000 depending on the fuel station.

A few motorists who we spoke to questioned why fuel supply has not returned to normal even after the Government announced that it had paid subsidy arrears to oil marketers.
We reached out to a few motorists and Boda Boda riders in the lines and here is what some had to say.
"We can't travel for long distances since we have no enough fuel. There is a fuel shortage in Machakos and the fuel that we get, is being rationed to fit everyone," Allan a bodaboda rider said.

"Yes I have a car, but I can't use it anymore until this crisis is solved. This is the biggest joke of the day, the government should quickly intervene. As a preacher, I used to go to the areas at the far end of Ndiithini but now my ministry has stopped because of fuel shortage."Rev Lazarus a preacher said.

Francis Musau a bodaboda rider from Salama, Makueni County told Mauvoo News that he was forced to come all the way from Salama to Machakos, to see if he could get some fuel, but he spend the entire day in Machakos Town all in vain.

"I came here early in the morning from Salama market, Makueni since we have no fuel there. I wish I could have just kept myself busy with other things because I have spent the whole day here and gotten nothing."Musau narrated.

Bodaboda riders expressed their frustrations saying that with the fuel shortage, their sector has been hit badly because they use the money they get from customers to fuel.
On Monday and Tuesday this week, long queues were witnessed in Machakos Town Petrol Stations, as motorists shared the scarcely available fuel.

"I have spent almost 2 hours in a queue at this petrol station. I could have done a lot for those 2 hours. Fuel shortage is killing even the economy of this country." Annabel said pleading with the authorities to act.
The fuel shortage has persisted even after the Government of Kenya released 34.4 billion to clear arrears owed to oil marketers. There were allegations that some Oil Marketers are hoarding stock expecting an increment in fuel prices tomorrow.