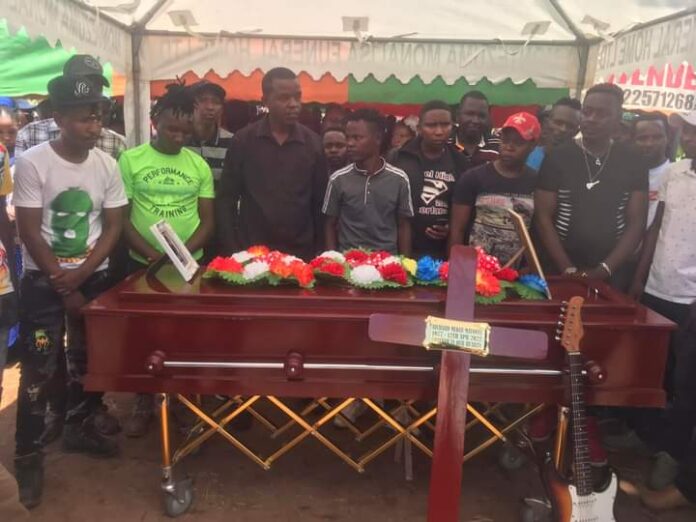 Lovers of Kamba benga music, colleagues in the industry, Family, and friends of renowned guitarist Richard Mukuu known for his prowess in playing the rhythm guitar congregated at Mosa, Kitui Rural to pay their last respects at Mukuu's burial.
Mukuu passed on 2 weeks ago at a Machakos Hospital after being ill for some time.
Speaking at the burial Kamba- Mukuu's dad said he lost a son who he loved and treasured. The immediate family – the wife and children seemingly overwhelmed by grief did not speak at the burial.
"Mukuu was my child. I loved him and he loved me. I don't have much to say but just to note that God has done his will. Thank you for listening to me." His father said in a brief tribute.
Musomesa at the burial said that Mukuu played the guitar in his 4 volumes and they were good friends. Nzambani Boys Band, Kyamutwii Boys Band, Ithumula Boys Band, Ngiini Digital Guys, Kiteta Sisters, Musomesa, Solo Sita, Kakongo sisters, Wandeke boys are some of the bands and the artists that were present at the occasion.
Alex Kasau Katombi and his band performed his Thingitha hit released 2 years ago in which he introduces his band members and mentions Mukuu in the song in a special way.
On Friday 22nd, Several Ukambani artists, media personnel, fans, and MCSK CEO Dr. Ezekiel Mutua congregated at a Mlolongo Hotel for a Fundraising concert in support of Mukuu's burial.
Mukuu played rhythm guitar for almost all Kamba Benga artists including Alex Kasau Kulukulu popularly known as Katombi.