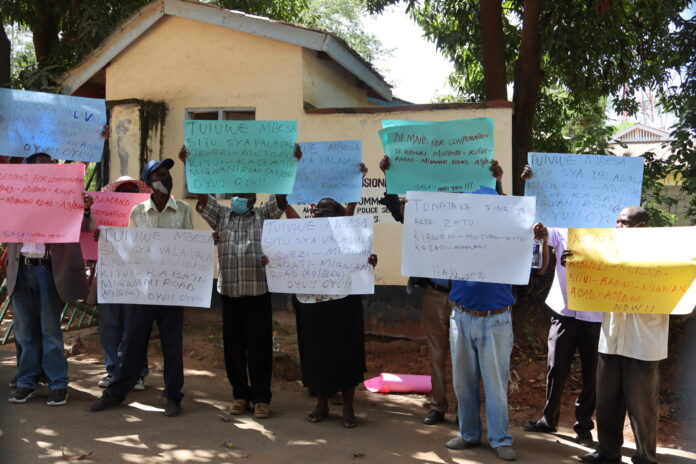 Residents of Ikutha sub-county in Kitui South have called on the National Government to compensate them after giving out their land for the construction of the Kibwezi-Kitui-Kabati-Mbondoni road.
The residents claim that even after demonstrating severally and going to Deputy County Commissioner and OCPD offices they were never paid. Led by Matuku Singi who is the chair of the Project Affected Persons (PAPS) committee in Ikutha Sub-County stated that since the 2022 /2023 budget was read and presented to the Parliament by Finance CS Ukur Yatani on 7th April 2022 they should now be compensated to stop lamenting and blaming the government since 2018.
Singi revealed that the residents have been languishing in poverty even after giving their land which could have benefited them to sustain their lives.
"The awards were given in 2018 and the people are yet to be paid yet people are languishing in poverty. The 2022/2023 budget was read and they have been promising us that they will pay us our money but they never paid us. I have been calling and they had already said that there is a supplementary budget passed for the purpose and the 2022/2023 budget was presented at the Parliament when the supplementary was still at the treasury that's why we wonder why they have taken too long to compensate," he said.
Singi further stated that the Government should use the budget after it is approved to compensate the residents and this would be one of the greatest legacies left by President Uhuru because some of the residents have no houses or land to live and they were not compensated to go and settle to other places.
"Some people have died due to hunger because they have no land to cultivate, others have no money to go to hospitals and I would like to request Uhuru Kenyatta's government before they end their term to make sure they compensate our people because that is the legacy that he can leave here in Kitui South," Singi added.
This comes after Senior Counsel from Kitui and Senatorial aspirant Nyamu Mati blamed the National Government for not compensating those affected by the construction of the road. Mati had revealed that the government went against the law by taking land belonging to the residents and starting construction works without first compensating them.
Last month, a section of Kitui leaders promised to ensure compensation for locals. Missed the story? Check it out below;