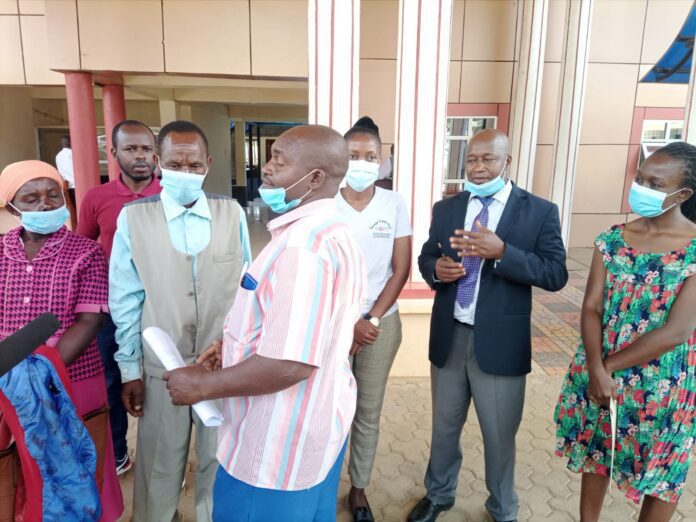 Residents of Ngaaie in Mwingi North have petitioned the Kitui County Assembly Committee on land, infrastructure, and urban development over compensation issues in Ngaaie limestone mining.
They claimed that their pieces of land were taken by Athi River Mining Company and many people were never compensated for their land despite making follow-ups to various land offices.
Ngaaie Focus Community Based Organization (NFCBO) said that they selected a committee which was to tackle compensation issues and by then it was headed by the now current Mwingi North Paul Nzengu who later resigned from the position after the residents demanded to know how the process of compensation was being done.
Elijah Mutembei a representative of the community stated, "There was discovered limestone in Ngaaie and the Athi River Mining Company came and showed interest in mining. After being given the prospective license by the government they came to the ground but there were issues that started changing without us knowing. Some pieces of land were even surveyed when their owners were not there, some were paid even before our cries were heard."
The residents also lamented that there have been cases of fraud in surveying their pieces of land and less money promised to them.
Flora Charo from Human Rights Commission said that the residents have been undergoing a lot since 2013 and called on the county assembly to ensure that the residents are compensated and come on good terms with the Athi River Mining Company.
"We hope that the petition that has been presented to the Clerk of the County assembly will be handled accordingly because the residents never got compensation as expected and the liaison committee is alleged to have betrayed them. We promise that we will stand together with the Ngaaie community," Flora said.
The residents demanded to know the whole truth about the issue because there were also speculations that there is another mining company that wants to take over. They also demanded to get all the documents that were being used to be returned to them allegedly because MP Nzengu refused to hand them to the residents.