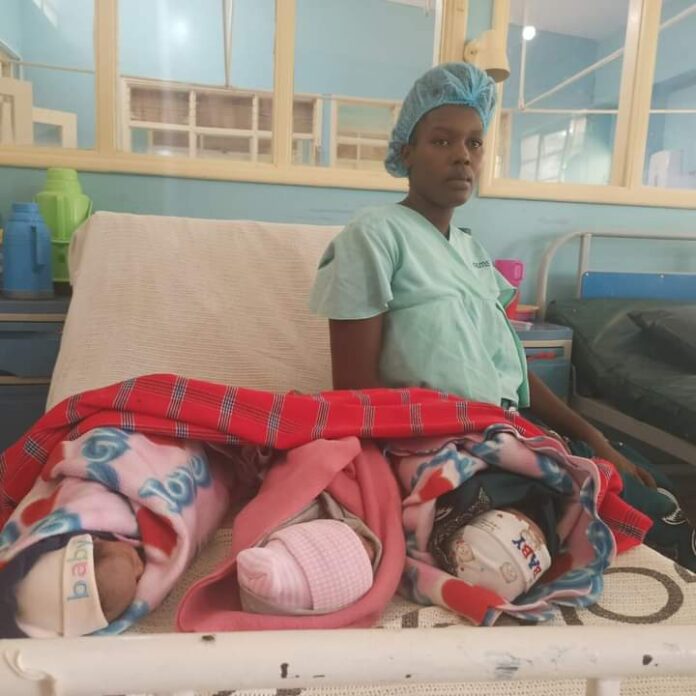 Matungulu MP Aspirant Dr. Philip Munyao has come to the rescue of a 21-year old lady from Tala who had given birth to triplets at Kangundo Hospital.
The lady had appealed for help from well-wishers in raising the triplets after the father disappeared.
Philip with his team visited the lady at Kangundo level 4 Hospital and gave her essentials for the baby as well as support to help her in raising the kids.
He further noted that if he is elected MP come August 2022, he will ensure that all Matungulu residents get NHIF cards as well have a kitty to support the vulnerable mothers in the community as a way of ensuring their children are well taken care of.
The lady known as Mueni Minoo gave birth to triplets at Kangundo Level 4 Hospital on the 9th of March 2022 and since then she has been at the hospital.
Mueni noted that upon getting pregnant she told her baby daddy but the man disappeared from her leaving her to take care of the pregnancy alone and now she has no source of income.
"My appeal is to anyone out there, please I am in dire need of your help to raise my three daughters. The man I sired with disappeared the moment that he discovered that I was pregnant and since then have never heard from him or seen him," she said.
The mother of three revealed that she is unemployed and she is relying on her parents who are unemployed also and now she does not know what to do with the babies when she is released from the hospital.
Mauvoo News spoke to the nurse attending to the lady who revealed that she is doing well and had enough breast milk even though one of the children was born underweight and was under observation for three to four days before they are discharged.
Anyone willing to assist the lady can do so by contacting Mueni on 0794719222.