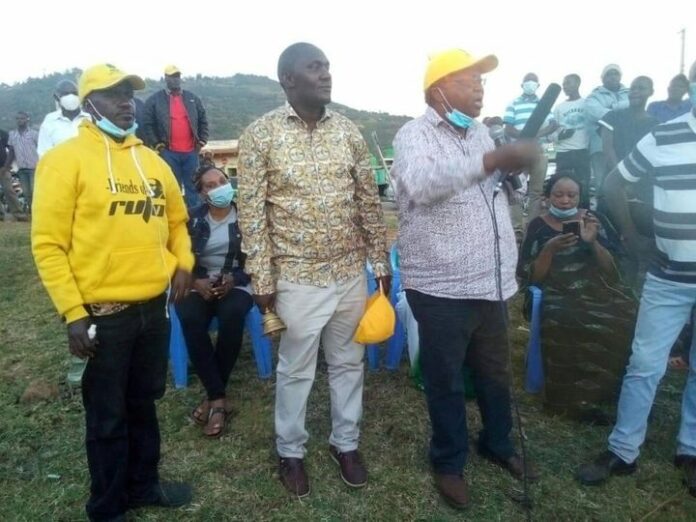 Moses Muthama, the son of Agnes Kavindu and ex-husband Johnson Muthama has asked Machakos voters not to vote for Kavindu in the March 18th by-election alleging she left him when he was only 3 months and was brought up by his father.
According to Moses, they last talked with the mother in January and he does not know where she stays and if elected Machakos people do not know where to find her to give her their issues.
Moses who had accompanied the UDA team to a campaign rally at Katoloni on Saturday asked locals to vote Urbanus Muthama Ngengele and save them from Kalonzo who he says was using his mother to "discipline" Muthama.
"I was brought up by my father, my mother left me when I was just 3 months old. My father is the one we know as a politician in our family, my mother has brought total disunity. Let's not vote for her so that I can take her back to preaching. They cannot both fit in the podium with my father." Moses Muthama said.
Moses also condemned Kalonzo's speech during Bishop Nguyo's burial in Mitaboni last month where Kalonzo said he will return Kavindu to his ex-husband in 2022 but as a senator.
"They want to make my father feel bad and shame him the way they did at the funeral. Kalonzo gave the nomination certificate thinking my father was going to vie. They went to a funeral in Mitaboni and with more than 10,000 people attending and he said he took my mother and will return her in 2022. Is that right? Should he have spoken that way?" Moses went on.
In January while responding to a statement by her children, Kavindu said that she had forgiven them and loved them unconditionally, insisting that her ex-husband Johnson Muthama be given the utmost respect.
UDA Senatorial aspirant Urbanus Ngengele in the meeting revealed that he was the right candidate for the Senatorial position and all those saying that he doesn't qualify will be shocked to see him as the next Machakos senator
"I as Ngengele know what is required to be a senator, I have all those qualifications. Don't be fed up with total lies about me, let's vote in the right senator, who is me." The UDA aspirant pleaded with the locals.
Machakos town MP victor Munyaka requested everyone to practice peaceful campaigns, adding that Katuku if elected will not be able to oversight Governor Mutua who is his party leader.