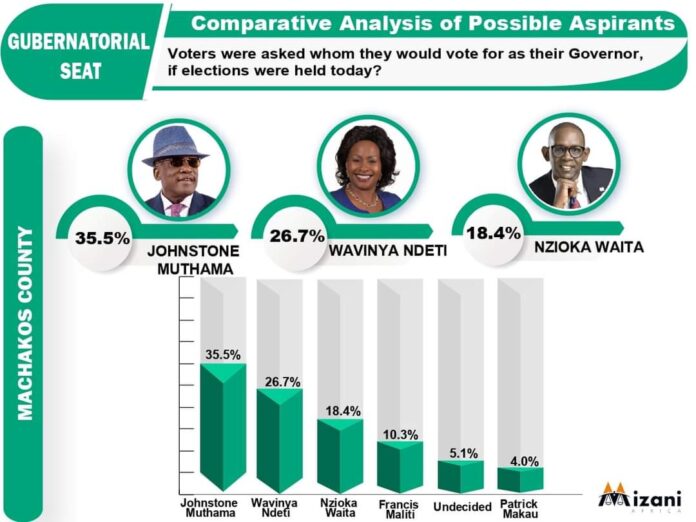 Mizani Africa has released opinion poll results for Machakos Governor, Senator, Women Representative, and all MPs in the county 8 constituencies.
In the Machakos Gubernatorial race, UDA Chair Johnson Muthama scored 35.5 percent followed by Wavinya Ndeti in second place with 28.7 percent while Waita Nzioka scored 18.4 percent. Deputy Governor Francis Maliti had 10.3 percent and Patrick Makau 4 percent. 5.1 percent of the respondents were undecided.
Machakos Senator Agnes Kavindu according to the poll would be reelected if elections are held today with 33.5 percent. Urbanus Muthama of UDA in the poll emerged second with 30.6 percent, Chris Mutinda with 17.5 percent, Timothy Maingi 10.5 percent, and Antoh Noah 4.9 percent. 1.6 percent of the locals were undecided.
In the women rep contest, the incumbent Kamene Kasimbi ranked top with 32.4 percent. She was closely followed by Annabel Ndilo at 30 percent, the former women rep Dr. Susan Musyoka had 20.7 percent, Priscilla Mumbua followed at 4.2 percent, Jacinta Wanza at 4.1 percent, Jane Cosmas 3.4 percent, Fransisca Mutinda 2.4 percent, and Magdalene Ndawa at 1.6 percent.
Robert Mbui of Kathiani constituency would retain his seat if elections were held today according to the poll with 53 percent followed by Mwaya wa Kitavi at 26 percent, Gerald Wambua 10 percent, and Mathew Munyao 6.7 percent.
In Mavoko Patrick Makau who has since decided to vie for Governor would garner 31 percent if elections were held today followed by Philip Mutua at 25.4 percent, Charles Wambua 15 percent, Anthony Ngunga 14 percent, and Felix Mambo 7.3 percent.
38 percent of respondents from Machakos town would vote for the incumbent Dr. Victor Munyaka, 31.2 percent Caleb Mutiso, Job Nyumu Solomon 26.9 percent, and others 3 percent.
In Mwala, the current MP would retain the seat with 36.4 percent closely followed by Kilei Mutinda at 24.9 percent, Peter Mbuva Kathukya 18.2 percent, Justus Kimilu 12.3 percent, and Wambua Wamps 6.5 percent.
In Masinga constituency according to the polls, Benson Wambua would win with 51 percent followed by Jackson muthini at 20 percent, Joshua Mbithi 17 percent, Lawrence Maingi, and David Mutuku at 3.4 percent.
In Yatta constituency, Charles Kilonzo according to the poll would win at 24 percent, he would be followed by Robert Ngui at 22 percent, Francis Mwangangi at 19 percent, Michael Kasimba at 16 percent, and Vero Mwongeli 3.2 percent.
In Kangundo, Celeb Babu would win at 31.7 percent followed by Ancent Kituku at 27 percent, Fabian Kyule the incumbent at 21 percent and Katatha Maweu 16 percent.
In Matungulu, the incumbent Stephen Mule would win at 43 percent, Joseph Wambua followed at 20 percent, Kalasinga 16.5 percent and Peter Kilonzo 10 percent.