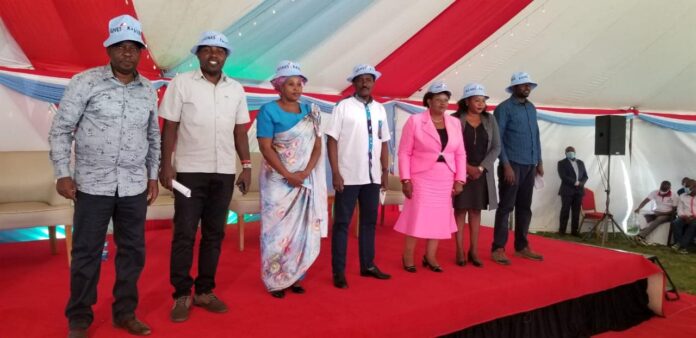 Ex-Machakos Deputy Governor Bernard Kiala who was a UDA senatorial aspirant has alleged that Urbanus Muthama Ngengele paid 2.5 million to be declared the winner of the scientific opinion poll conducted by the party to determine who will be the flagbearer.
According to Kiala, for a senator to perform his duties of oversight, legislation, resource allocation, and impeachment they must be blameless. Not a person who is associated with corruption.
"UDA members expected nominations to be transparent. They were told a scientific opinion poll would be conducted…I stand to confirm before you that UDA candidate was a manipulation of the computer – Kifaranga kya Kompyuta." Kiala the UDA campaign manager said.
"In his own words, he confessed to me that he had to pay a bribe of 2.5 million. On the principle of integrity, we withdraw our support from UDA candidate and direct support to Agnes Kavindu so that it is a lesson to UDA, its chairman, party leader and those with that behaviour." Kiala added.
Kiala highlighted that the issue of pollution in Mavoko sub-county and cleaning AthiRiver must be a priority of the senator. Other senatorial aspirants from UDA who backed the Wiper candidate included Magdalene Ndawa and Rita Ndunge.
Machakos senatorial aspirant through wiper party, Agnes Kavindu said that she was glad to all those who endorsed her saying that the president never made a mistake to grant her permission to run for the senatorial seat.
Kavindu went on and requested those talking ill on her son to stop and pray for him instead. "Let us forgive Muthama. Those cursing my son, let them bless him instead, I can't curse the fruit of my womb."Kavindu said.
Stephen Muthuka ex- UDA official said that the campaign strategy should change from insults to peaceful campaigns "When children go astray there is always a room of forgiveness, now we are back. I add to confirm that our Machakos senator is Agnes Kavindu."
Lazarus Muli Director of Music Society of Kenya who was in attendance too accompanied by some musicians said that all should unite as one and support Agnes Kavindu.
"We were much ignored in UDA and now we have good reasons for directing our followers on where they will vote come 18th march." He said.
In January, a section of aspirants allied to the United Democratic Alliance (UDA) cried foul over the opinion poll conducted to determine the most popular amongst them. They raised concerns on why Mwala MP bragged on the outcome before the poll results were announced among other issues.