Valentines' is the day to celebrate and share love. Several brands celebrated their customers in different ways on the special day.
Lower Eastern PSV Sacco K-Prestige had a lot of gifts and giveaways to appreciate their customers. Mauvoo News visited their Nairobi offices, the ladies were getting Rose flowers and chocolates. The long-distance customers were also served refreshments.
All the terminus had valentines decorations and one could feel the mood of love in the air.
From last week, the fast-growing Sacco run a competition on their Facebook page and winners were awarded on Valentine's day. The first winner in the promotion Kerry Tanya won a return trip for 2 from Nairobi – Mombasa, other winners Melisa Anyango and Esther Thome got wine, and other valentines gifts.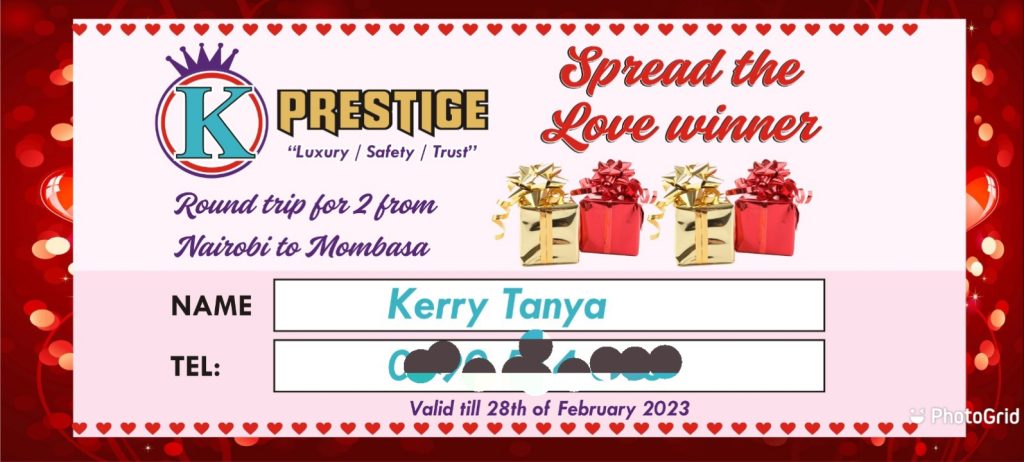 Speaking to Mauvoo News, K-Prestige Managing Director Clinton Wambua said that they used Valentine's day to appreciate customers who he says have been a strong pillar to their business.
"We owe our rapid growth and expansion to all our customers. We have a fleet of over 150 and still expanding in terms of routes as well as fleet. Each and every day our customers have always turned up. They have shown us unconditional love and support since our first day in business. They keep referring their family members, friends, and colleagues to us. Our success is owed to them and we chose to appreciate and love them back today." Mr. Wambua said.
"This is not a one-off thing, we will keep appreciating them in different ways and at the same time we pledge to offer the best service and experience to customers each and every time. Customers have embraced us. We introduced private hiring last year, and every weekend tens of shuttles are out there with our customers in different functions. We have also received the same support during school opening and closing when parents come together and hire our shuttles. It's been a great experience with our customers. We owe them a debt of gratitude." The Sacco chairman added.
The Sacco operates between the main towns of Nairobi, Mombasa, and their environs to all the main towns in the Lower Eastern counties of Kitui, Makueni, and Machakos.