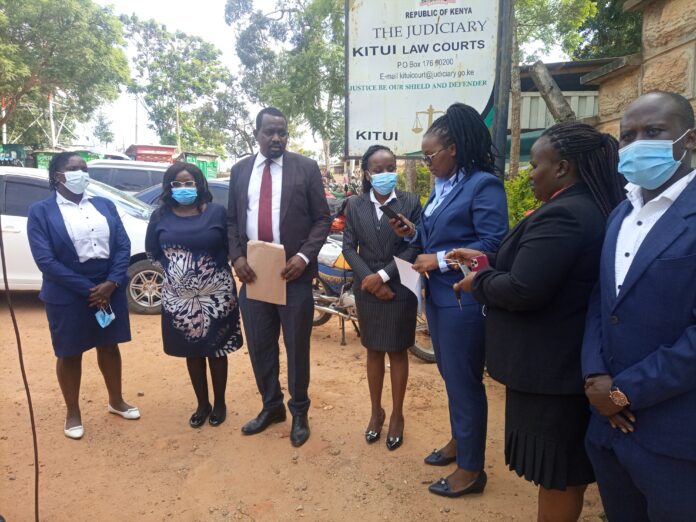 Kitui lawyers led by Morris Kimuli have released a statement on the death of prosecution counsel Kelvin Gesire. Addressing members of the fourth estate, the lawyers expressed their dissatisfaction with the stories that were doing rounds on social media saying that Gesire committed suicide.
The lawyers said that the narrative of saying that Gesire committed suicide was started by the police who arrived at the scene to pick up his body without first waiting for investigations to commence.
"Preliminary reports from police officers who recovered his body suggested that he did not die of natural causes. We express our solidarity with the family and his colleagues at the Office of Director of Public Prosecutions, as they seek answers and strive to come to terms with this unfortunate loss of a loved one and colleague," part of the statement read.

Lawyer Kimuli said that it is not good to guess the cause of the death without thorough investigations being done since the law requires every death that doesn't occur by natural means to be thoroughly investigated and case established.
"We want the police to investigate together with the Directorate of Criminal Investigation to tell us what led to the death of Gesire without telling us speculations before investigation, we want also to caution those who are spreading the rumors that he killed himself that it is not good to the family and friends," Lawyer Kimuli said.

The Kitui lawyers also showed discomfort from media houses who were quoting sources from the police even before the investigation began.
"It is against this background that the legal fraternity in Kitui is deeply disturbed by the pervasive speculation and conjecture on the cause of Kevin's death. We deprecate the premature and untested narrative that Kelvin took his own life. Sadly, some sections of the media have attributed these rumors to sources within police ranks."

The lawyers stated that they will accept nothing less from the Directorate of Criminal Investigation rather than thorough, exhaustive, and objective investigations being undertaken to establish the cause of Gesire's death.Gesire was on Tuesday (18th January 2021) found motionless in his house in Resort area, Kitui, and subsequently pronounced dead. Missed the story? Click here to read it.