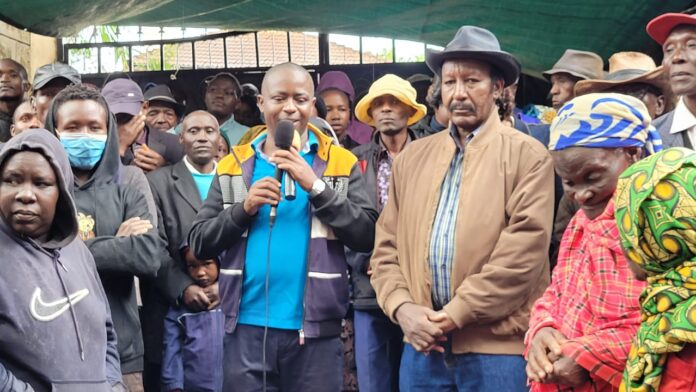 Kangundo Central MCA Moses Mitaa and a section of residents from his ward have endorsed Nathaniel Senga to vie for Kangundo MP in the coming August elections.
Speaking during a meet the people function at Kangundo Central Ward, Mitaa said that it was time that the people from Kangundo central ward got to feel National leadership in their ward.
The MCA noted that over the past elections, the MP seat has benefited majorly people from Kangundo West and North areas of the constituency.
"Today we have met at Kambai village in Kangundo central where we had come to endorse one of us from our Ward Kangundo Central who wants MP seat," Mitaa said.
"We have picked Nathaniel Senga to vie for MP from our ward after Madam Rose Ndinda stepped down. It is time now Kangundo Central felt National leadership at our ward," he added.
Nathaniel Senga, addressing the press after the endorsement said that one of his priorities when elected as the Kangundo MP, will be to raise the standard of education in the sub-county.
He promised that every student who manages to get an entry into University after finishing their Four years in secondary school would receive full CDF Sponsorship.
"Education is what someone gets from the classroom, not the class and subsequently I want our children to be learned. I want to see our kids pass from primary to secondary up to University," said Senga.
"What I want to address is that when a child from Kangundo qualifies to join National School the parent shall not worry because it will the responsibility of the area MP to ensure that the child is fully sponsored until university," He added.
Nathaniel Senga will be contesting for the Kangundo Parliamentary seat alongside the incumbent Fabian Kyule Muli, Former Machakos County CEC for Health Dr, Ancent Kituku, Former Kangundo MP Kyengo Maweu Katatha among others.