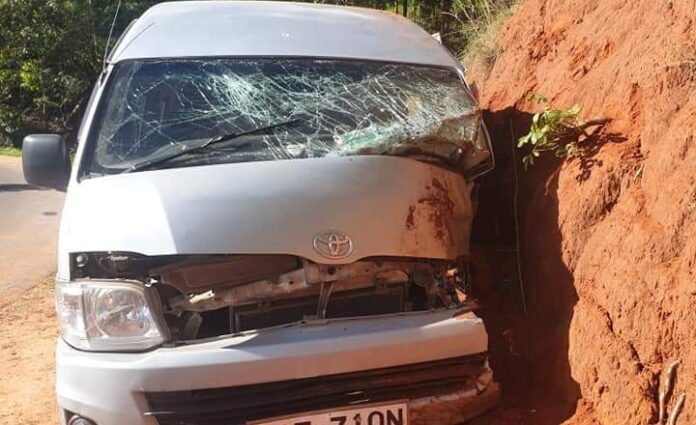 Renown Benga artist Kennedy Wambua Ngunze alias Ken Maria has spoken after a grisly accident that nearly claimed his life and that of the entire band.
The accident happened on the Kathiani-Machakos road. According to Ken, they were headed to a joint near Kathiani where they were to perform today.
The singer said that the vehicle lost brakes near a stream, he tried to stop it but he was not successful and he had to look for a modest place to stop.
He then tried to have the vehicle lean on a roadside but it was hard to control and it ended up hitting the side which is like a wall.
"I tried to stop it and it was heading to a stream and I diverted it. I saw a wall on the roadside and aimed there but it was hard to control." He said.
"I was with the entire band of 11. Our drummer has a broken leg, others have face and back injuries. Most of them have soft tissue injuries. We are being attended at Kathiani and the serious cases will be referred to Machakos." Ken maria speaking on the accident added.
In February 2016, Wa maria was involved in an accident along Thika road while headed to Ruiru to perform. The accident is said to have occurred when a Toyota Premio hit his Rav 4 from the rear, making the singer lose control of his vehicle, veer off the road only to stop after hitting a stationary lorry that was parked by the road. Though his car was badly damaged then, Wa Maria escaped with minor injuries.