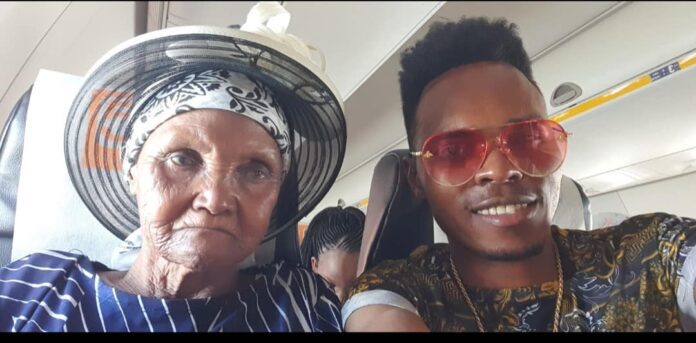 Stephen Kasolo's grandmother Mukwenze has died. This is a big blow to Singer Stephen Kasolo and netizens who follow her videos that Kasolo featured him on.
From having a hard time pronouncing some Swahili and English words to having make-up and her nails done at her age, she made many smile online.
Kasolo announced the news by taking to Facebook Sunday morning where he posted an emoji of a broken heart saying "Mukwenze My love."
The grandma has been ailing for some time now. In October 2020, Kasolo asked netizens to raise 500,000 for a heart pacemaker for his grandmother. That was done and she underwent critical surgery to install the machine.
She last appeared on YouTube in April where she got emotional while reacting to remarks allegedly made by Gospel Singer Fortune Mwikali that she is the one who brings money and fortune to Kasolo.
In the video, the grandma decries that Fortune really wronged her and it was very difficult to forgive her noting that it had hit her in her heart and it would not leave that easily.
Below are some of the condolence messages from Kasolo's fans;
Daphne Naila said, "What? She was an amazing soul. We will truly miss her. The Lord comfort you Kasolo."
Munanie Beatrice said, "So painful to have lost such a humorous grandma, it shall be well dear friends ( Grace, Shine, and Kasolo) Hugs."
Angy Muranje said, "Sincerely I have watched more videos of shosho why God."
Jessie Richie said, "My heartfelt condolences to you Solo, and entire family, mwendo shush ameumaliza let her rest in peace. Fare thee well (Mukwenze a Hero)."
Alfred Mtu said, "Let her rest in peace my bro. I know it's hard to believe that she is no more. May God give you courage."
Paul Ndolo added, "Pole sana my bro….nilimpenda sana na nilipenda siku moja nimuone live ila maisha hayajanipea chance….shine on her way."
In his Natiiwe Naku Song, Kasolo explained how the grandma was a pillar to him after he lost both parents and his sister at a very age.