The Ethics and Anti-Corruption Commission (EACC) has written to Machakos County Government over allegations of irregularities in the recruitment of staff.
According to a letter dated 22nd November addressed to the CEO County Public Service Board Machakos county, the board is required to facilitate investigations by providing documentation on recruitment done from 1st September 2022.
"To facilitate the investigation, Please provide us with documents in respect of all recruitment done by Machakos county Government for the period starting 1st September 2022 to date as follows;" part of the letter reads.
"Requisitions/need made by accounting officers, advertisement, list of shortlisted candidates for each position, Interview minutes and score sheets, panel report, copy of appointment letter, and any other relevant documents." The letter went on.
The letter;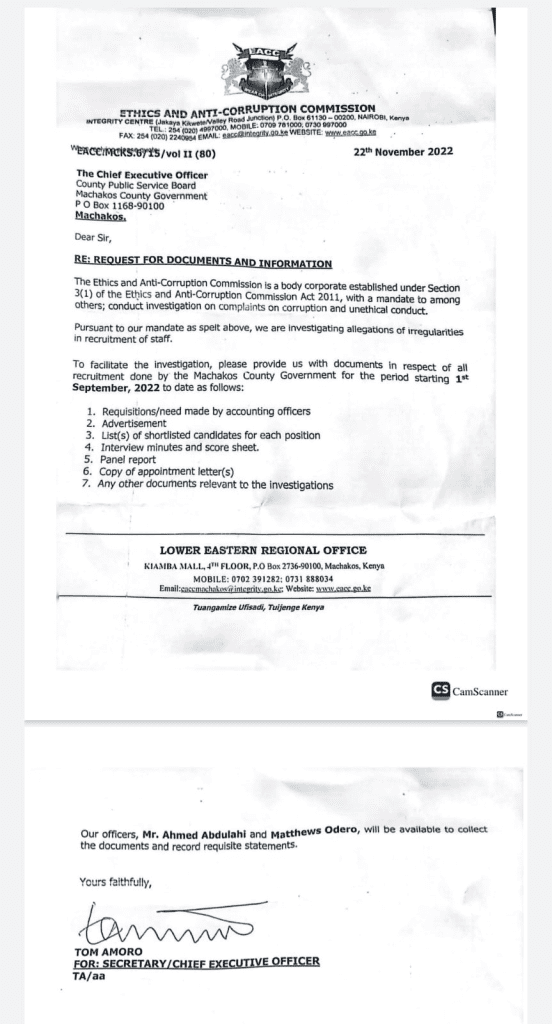 This comes barely a week after Machakos county Public Service Board members in a petition to the high court accused the governor of irregular recruitment of the chief of staff and other staff in the office of the Governor and Deputy Governor. Missed the story? check it out below;