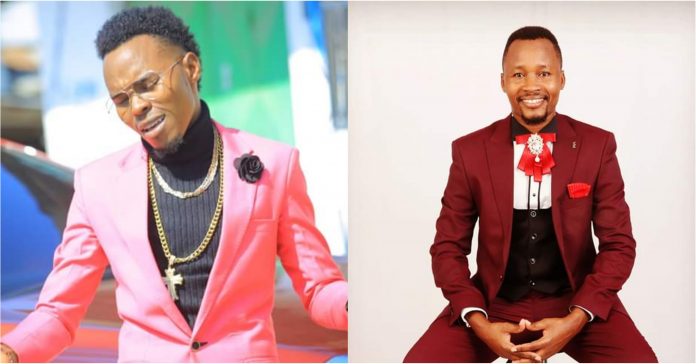 A video has surfaced of top Kamba Gospel artist, Stephen Kasolo shouting in a bizzare manner at the sidelines of an event. Kasolo was recorded yelling the name of fellow Gospel artist Justus Myello in a manner that onlookers said he appeared to be possessed. In the Video, Kasolo who seemed to be out of control was carried back to his car. The two gospel artists were attending an event Thursday in Machakos when this happened.
In a comment later, Kasolo says "I have encountered a lot in this life only that have been waiting upon the lord to heal my heart". He says that he cried because a certain musician was using 'his sons' to insult and tarnish his name. The Gospel artist has recently had to defend himself against accusations of introducing fellow artist Rose Muhando to drugs. The artist is going through a period of turmoil. Kasolo is very popularly known for his kamba song, "Kitole".
On Thursday, a Local artist Kenny Bizzo, famous for the new Kambacha Style was arrested for defamation of a fellow artist suspected to be Kasolo. Kenny Bizzo's is friends and fellow artists bailed him out from police detention. Kasolo also alleges that his Gospel artist colleagues made him separate with his girlfriend and were now using her to bring him down.
Kasolo asked his fans to pray for him as it was now too much for him. "mungu wangu atanitetea since sina baba wala mama." According to some locals who spoke to Mauvoo News, the artists should sort out their differences in a christian way as they are role models and influential in the community.
The Video of Kasolo yelling Myello's name can be found here. Kasolo has in the past performed at major national events. These include having President Uhuru Kenyatta dancing alongside him on stage at a function hosted in the Machakos People's park.