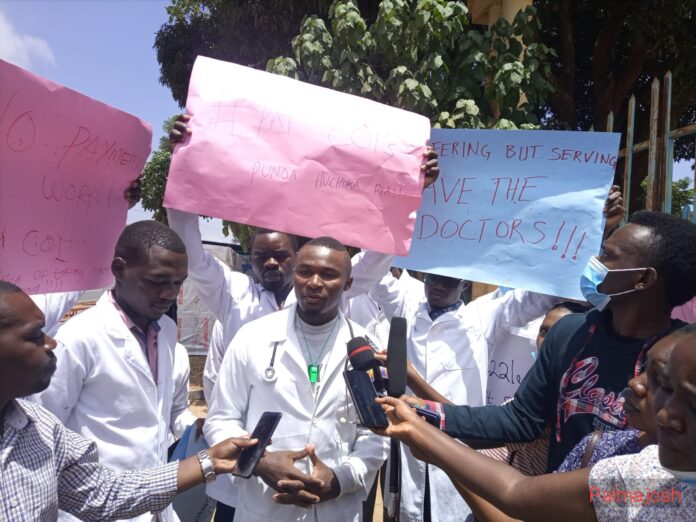 Clinical officers who are undertaking their internship in Kitui marched on the streets of Kitui town protesting against government delay to pay their monthly stipends.
The officers lamented that they have been working in Kitui County health centers since August 2021 and they have not received their monthly stipends for over 7 months.
They called on the Ministry of Health to pay them since the money was already disbursed by the Treasury to the Ministry of Health. The clinical officers also claimed that the county government of Kitui also promised to chip in and be giving them a little token but they never fulfilled their promise.
"Today we have decided to start our strike because the government promised us the stipends and knows very well that we need stipends to facilitate our work here. We had given them a grace period of three weeks as usual to pay us but they never did that. We have stayed for seven months without pay," Titus Kipruto one of the clinical officer interns stated.
They also expressed their commitment to work despite having a lot of challenges in paying their house rents and transport to the kitui county referral hospital saying the national government has been neglecting them.
"We don't have anything to eat, even for transport from where we live, how does the government want us to work. We are not going on strike because of anything, we just want to be paid because we are human beings and we have our needs. We never got payroll numbers since December yet we took our documents to the ministry of health," Laurence Thuvi added.
"When the government starts to play tricks with us now how do they want us to work with them when they employ us? We came to this course because of good passion, we plead them to pay us because it's a very small token of appreciation to us." Another officer went on.
The clinical officers marched to the County Government of Kitui offices to meet the County boss and air out their grievances. Mauvoo News followed on the issue and learned that Governor Ngilu listened to their grievances, called some of the Ministry of health officials to get to know why the officers were not paid. According to one of the clinical officers she stated that the Governor promised to handle the matter and make sure that they will be paid.