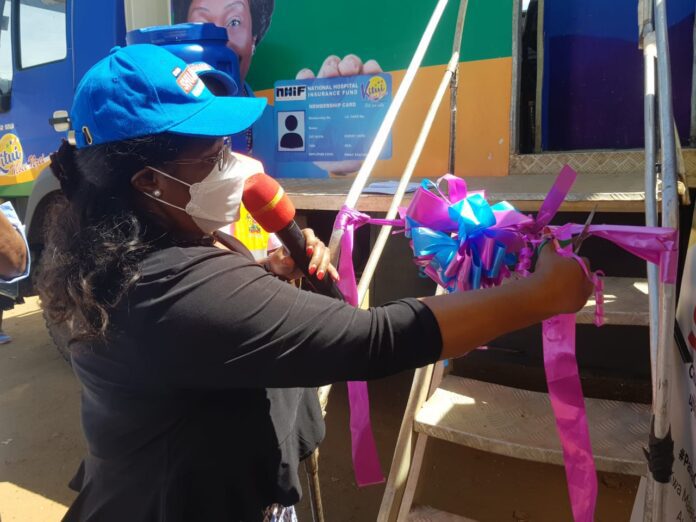 Kitui CECM Health and Sanitation Dr. Winnie Kitetu launched a mobile cancer clinic which among other things has vaccination and screening for women.
The vaccination process is aimed at fighting against breast cancer which is common in women. Speaking at Kabati in Kitui West during the launch, Kitetu confirmed that the process will be running across all the 40 wards of Kitui.
"We have brought this mobile clinic to ensure that all the women undergo cancer screening for free and we will be very confidential to ensure that if cancer is detected you get treated as soon as possible. In Kenya over one million women have been reported to have cancer and it is sad when women get cancer when we can still prevent it," Kitetu said.
Kitetu further urged all the women to avail themselves in large numbers to get screening to detect and prevent cancer before it gets too extreme stages. She stated that 270,000 women have been reported to have succumbed to the cancer menace.
The CECM also urged all the Kitui residents to come out in large numbers to get Covid-19 vaccines which are available in all government health facilities across the county.
"We have targeted over 600,000 people to get the covid-19 vaccine and now we have vaccinated over 128,000 people and that means there are some people who have not availed themselves to get vaccinated and that's why we want to come to the ward level, to the old and vulnerable people who are at high risk of getting a covid-19 infection," she went on.
CECM Kitetu dismissed claims that the Covid-19 vaccine has adverse effects as some people are speculating stating that the county ministry of health through their mobile clinic will be visiting different places, especially the grassroots people like shopping centers, schools, and churches to get health services closer to the people.