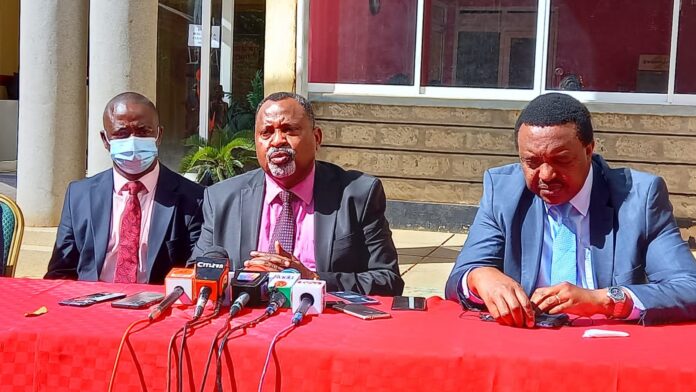 A section of Machakos MCAs led by Majority Leader Mark Muendo have told off Senator Agnes Kavindu over what they referred to as failure in doing her work of oversight.
Addressing the press briefing at Machakos County Assembly, Muendo asked Kavindu to stop lamenting about the crisis in the county in the different functions she attends and to focus on her work.
"You were elected just the other day. Which kind of oversight are you working on? The work of a senator is to Oversight the County Leadership. Machakos people are suffering when you should be giving proper oversight."Majority leader Mark Muendo said.
"You should be giving proper oversight to Machakos County executive but not Members of the County Assembly. Stop attacking MCAs. Whatever you trying to start is a war, and we don't need that." Muendo added.
Towards the end of Last Year, Agnes Kavindu said Machakos MCAs and the speaker had failed in their work and were to be blamed for the mess in the county.
The MCAs asked Kavindu to engage with Senator Kiio of Kitui County and Senator Mutula of Makueni County to help her learn her work as she seems to be unaware.

The Members also took a swipe at Machakos Deputy Governor Francis Maliti over what they termed as unprofessional leadership, saying that Machakos County Hospitals' crisis due to lack of medicine and other essentials is inhuman.
"Our hospitals have had no drugs for some time now. Where is the 4.3 Billion that was allocated for Machakos Health Sector? Where is all this money? Maliti you need to answer this." Muendo went on.
The Deputy Speaker of Machakos County Assembly Paul Museku asked Francis Maliti to work for Machakos People and stop intimidating the electorate.
"Maliti you're not professional. You're an unprofessional Finance Officer. We even impeached you earlier then you ran to court." said Museku.
Museku asked Senator Agnes Kavindu to present herself in Machakos County Assembly, so as to be briefed on what the County Assembly has been doing, asking her to stop attacking MCAs.