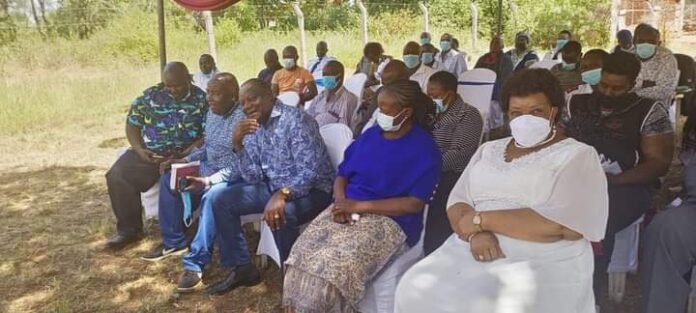 Machakos Deputy Governor and Finance CECM Eng. Francis Maliti and senator Agnes Kavindu faced off during the appreciation service of Major john and Hellen Ngui at Kithimani Salvation Army in Yatta.
When Kavindu stood to address the congregants, she took credit for drugs that had been delivered to hospitals last week promising to continue fighting for CHVs who had not been paid to receive their stipends.
"After I spoke, you have delivered drugs to hospitals. As county Assembly, you also stood firm. Drugs should not run out of stock. Let the supply continue. What I also ask is the completion of stalled projects before Mutua exits." Kavindu said.
"The other people I won't get tired of fighting for is CHVs, every year the money to pay them is allocated and they are never paid. Why cant they get their money? The work you have given me is oversight and when I'm doing so I should not be told I'm attacking people." She added.

When Deputy Governor Maliti stood to speak, he accused Kavindu of using the church gathering to mislead people and do politics.
"The problem was the money we receive from the National Government and senator you know we had not received. When we got the money, we ensured drugs are delivered. On CHVs you should go to the Governor's office or my office and see they have been paid it was just a cash flow issue. Let us stop using gatherings like this to mislead people because of politics." Maliti said.
Last week when Health CECM Dr. Ancent Kituku and his chief officers were appearing before the General oversight committee of Machakos County Assembly, Muthetheni Ward MCA Jeremiah Munguti sought to be told why arrears due to community health volunteers (CHVs) approved through a supplementary budget for the last financial year were not paid in full.
This was despite the assembly approving 84 million to pay the community health volunteers arrears in full as a lump sum and start the financial year 2021/2022 on a clean slate. This question went unanswered despite the insistence for clarity by Deputy Speaker Paul Museku of Mumbuni ward and Masii ward's Betty Nzioki. The assembly directed that answers to this and other questions be provided in due course.