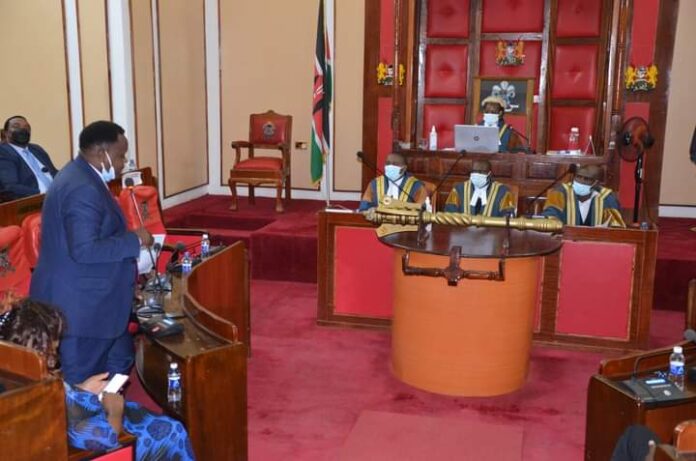 Machakos County MCAs under the General Oversight committee have summoned senior officers in the County Executive over the health crisis in the county hospitals that has now lasted for over 3 months. The officials summoned are the County Executive Committee Members (CECM) and Chief Officers in the Health, Finance, and Energy departments. The three CECMs summoned are Deputy Governor Eng. Francis Maliti who doubles up as the CECM for Finance, Dr. Ancent Kituku who is the CECM for Health, and Ms. Evelyn Mutie who is the CECM for Energy. They are to appear alongside their respective Chief officers before the General committee on 31st January 2022.
MCA Patrick Kituku representing Ndithini Ward sought a statement on what the county Health Department of Health and Emergency Services was doing to address payment of contracted services (health and security), payment of utilities (water and electricity), payment of community health volunteers, supply of drugs, and non-pharmaceuticals and promotion of health workers.
Kangundo central MCA Moses Mitaa speaking during the General oversight committee sitting noted that whenever there is a crisis in the county the Governor is usually abroad and it is a bad show.
"It is very unfortunate when we have a crisis in the county our Governor is usually outside the country. To make matters worse he is posting on social media issues related to the trip and our people are suffering and dying. During the bomb blast, President Moi was in South Africa and he had to take the next available flight to come and stand with his people. I believe we have the wrong person in the finance department and if we can make changes all other departments will begin working. We need to overhaul the department." Mitaa said.
Tala ward's Alex Kamitu who is also the minority leader noted that the MCAs have been friendly and it is like they have not been heard.
"We have been getting funds and let no one who denies the funds have been received say it. They should give a breakdown of how they use the funds they have been used." Kamitu said.
Judas Ndawa representing Matuu ward revealed that traffic lights in Machakos town had been disconnected from the grid and soon Floodlights in the entire county will be disconnected due to power bills, pointing out a deeper crisis.