Machakos Chief Officer in the Department of Industry and Innovation Joseph Munywoki Munyao is on the spot over an alleged fake degree.
According to a letter from the University of Nairobi seen by Mauvoo news and addressed to B.M Mung'ata and company advocates, the Bachelor of Commerce (Accounting option) Degree was not issued by the institution on November 29th, 2005.
Also, the institution claims that Munyao's name is not on their list of graduation convocations thus a case of forgery.
"Reference is made to your letter dated March 2, 2023, Ref. No. BMM / PET / WMM / 1 / 2023, on the above subject. This is to state that the copy of the Degree certificate forwarded to us for Joseph M. Munyao for Bachelor of Commerce ( Accounting Option ) at Second Class Honours ( Lower Division ), for November 29, 2005, is NOT genuine and was NOT issued by the University of Nairobi," read the letter in part.
"The name is not in any of our graduation convocations. This is therefore a clear case of forgery," it read further.
The letter;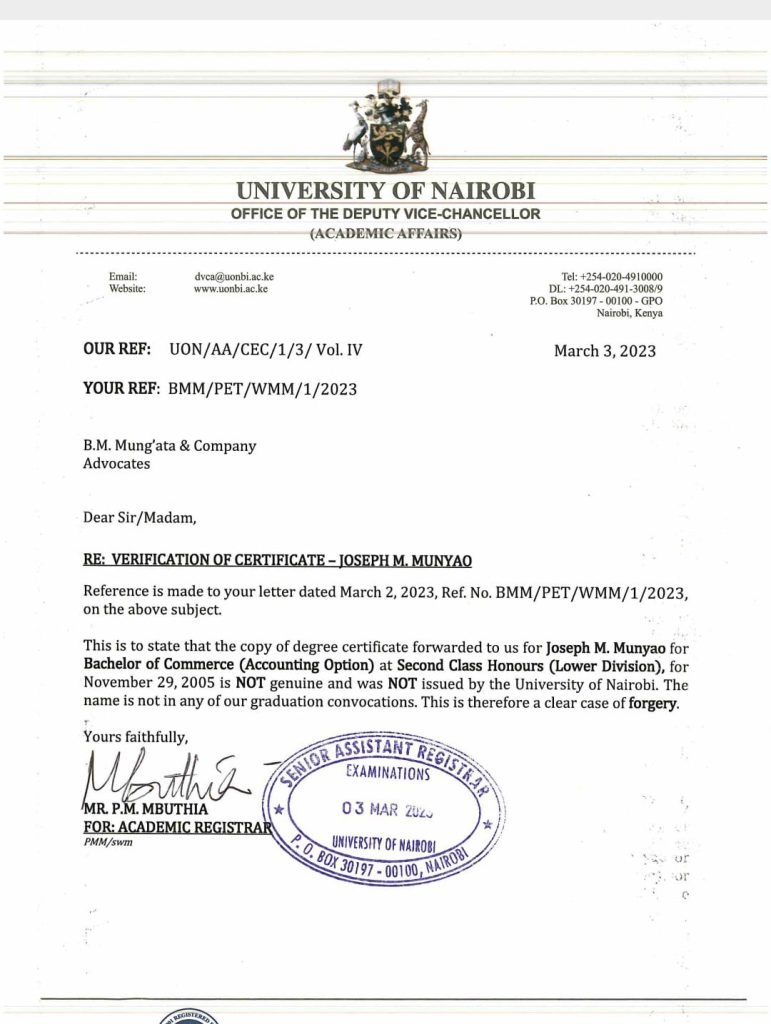 Controversy marred the list of Machakos County Chief Officer nominees in December 2022. While some of the nominees are said not to have applied or been shortlisted, others are said to not have met the qualifications, missed the story? check it out below;
The county at the time did not have Public Service Board quorum and did not meet the two thirds gender rule. However Machakos County MCAs unanimously approved the nominees.