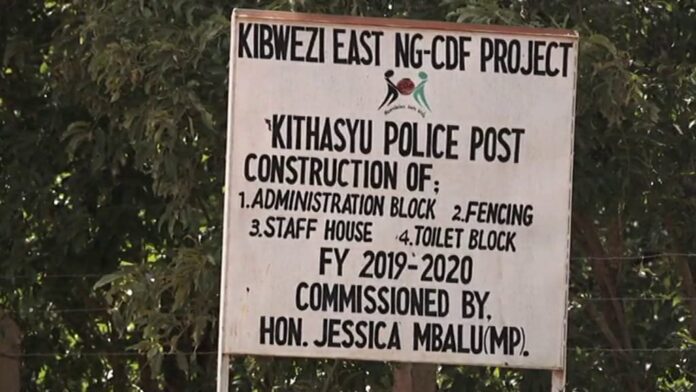 Residents of Kithasyu in Kibwezi East Constituency want the Ethics and Anti-Corruption Commission (EACC) to investigate and establish how the constituency NG-CDF acquired the land where the police post sits.
The residents led by Willy Malile told Mauvoo News that the land where the police post is built was bought from a resident. This is despite there being public land at the market that was a suitable location for the post.
They complained that the police post is very far from the market and there are missing social amenities like electricity.

"During public participation, we agreed that the police post should be built on the land at the market but the MP and the CDF ignored all of that. Yes, we need a police station but we were hoping it would be built at Kithasyu near the water tanks. As a community, we were not included in the decision that saw the post end up here. This place is very far and the police cannot stay here," One of the residents said.
"She (MP Jessica) went ahead and acquired land far from the market and built the post. The area is very far thus making it hard for us to get quality services," Another resident said.
However, the area MP Jessica Mbalu trashed the claims stating that they were pure politics. She said that the stakeholders like the Project Management Committee were included in the decision-making.
She observed that the land at the market is small compared to where the post was constructed. The lawmaker said the police will move in once the construction ends.
"It's not good for people to bring politics in matters to do with development. Speaking of the police post all the stakeholders were included by the Government in the decision-making to have the post where it is." MP Jessica speaking to Mauvoo News said.