The Auditor-General has put Makueni constituency NG-CDF on the spot for underutilizing resources to the constituency of about 11 million. This is contained in the Audit Report of Financial Year 2019/2020.
"Out of the total receipts of 137,535,306 only 126,267,748 was utilized resulting in under-absorption of 11,267,958. Underfunding and failure to utilize available receipts affected the planned activities and projects of the fund which may have impacted negatively on service delivery to the residents of Makueni." The Audit report reads.
The Auditor also raised issues on delayed implementation of projects noting that 49 out of 108 projects with a combined allocation of 41,977,426 had not commenced and 9 others with a combined budget of 7,955,602 planned for implementation had not commenced. The auditor noted that there was no satisfactory explanation given for the delays.
In the report, the fund management has been put on the spot over the use of an unapproved procurement method. In 6 projects with a cost of 9.5million, implementation was by way of hired casuals and materials acquired by project management committees. There was no prior approval from the accounting officer as required in the PPDA Act of 2015. The projects included; Kambi Mawe secondary, Itaa Primary, Manzani primary, Kiuuku Secondary, Muambani secondary, and AIC Mandoi Primary.
The Auditor-General also raised concerns over 6 projects with poor workmanship and other anomalies in implementation. The projects include;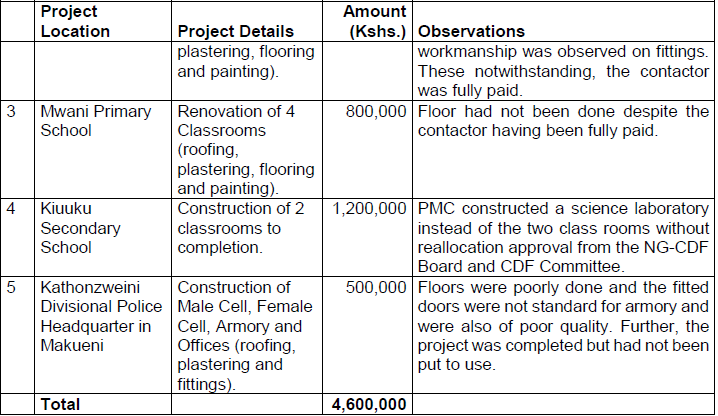 The report further put the fund management on the spot over the failure to provide the supporting documents for 4.85m incurred on emergency projects as stipulated in the NG-CDF regulations of 2015.