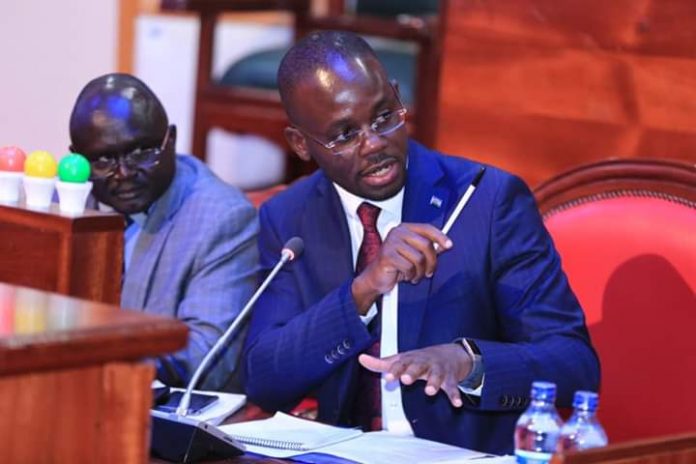 The Senate County Public Accounts and Investments Committee has fined Kitui Governor Charity Ngilu 500,000 for failing to bring with her documents required to respond to audit queries of Kitui County.
The Senate PAC chair Moses Kajwang noted that the fine was personal and was to be paid by Charity Ngilu and not by Kitui County.
"Section 19 says where a witness fails to satisfy the relevant house or committee, the house or committee may impose on the witness such fine not exceeding 500,000 having regard to witness condition in life and the circumstances." Ojwang Said.
"Having gone through the history of our engagement and the opportunities that we have given you to talk to the auditor general and submit written responses. I am going to rule that this committee applies sanctions that are spelled out in 19 of the parliamentary powers and privileges act."
"Governor Ngilu this committee is going to fine you 500,000 for having appeared but not bringing documents required of you in our various correspondences. This fine shall not be paid by County Government of Kitui its a personal charge to Governor Ngilu." the Committee chair added.
Some of the queries the Kitui Governor was expected to answer include;
1 billion difference between Financial Statement and IFMIS
The statement of payments and receipts for Kitui County in the 2017/2018 Financial Year indicated that the payments totaled to 9.7 billion, however IFMIS Vote book status report indicated payments of 8.6 billion resulting in a variance of over 1 billion which was unexplained.
739 million unaccounted bank and cash balances
In the Financial year under review, the statement of assets and liabilities reflected cash and cash equivalent balance of 1.5 billion bank balance and 1.5 million cash balances. Bank reconciliation statements reflected a balance of 763 million and cash of 1.298 million resulting in an unexplained 738 million.
743 million unaccounted from County Revenue
Kitui County revenue bank balance as of 30th June 2018 was 855 million but bank reconciliations indicated the actual bank balance was 112 million hence a difference of 743 million.
1.3 billion undeclared in revenue balances
As at the end of the 2017 Financial year, Kitui County had 1.3 billion unspent balances. This is normally added to revenue for the next financial year but the county committed the same without any explanation.
The Fining of the Kitui Governor Comes just days after Kitui Senator Enoch Wambua accused Ukambani Governors of backing Raila so as to be protected from prosecution over corruption.