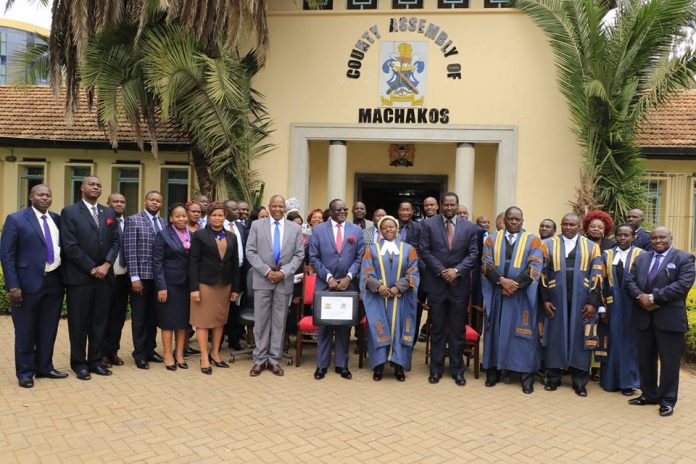 Machakos County Deputy Governor and the Finance CEC Tuesday presented to the Machakos County Assembly budget estimates for the 2018/2019 financial year. The budget has drawn criticism especially due to the low allocation on development which is at 30% and the ballooning Wagebill that consumes 5 Billion out of the 12 billion. Thirdly, the Youth who form the majority of the citizens have not received a proportionate allocation that is according to the critics of the budget. Some locals who we spoke to however feel the budget is good enough as it focuses on problems that are facing the locals such as health, water and roads. The total development budget was 3.8 billion and Recurrent 8.3 billion. The 30% development budget is the lowest among the 3 counties of Ukambani.
The Health docket received the Lion's share with an allocation of 4.4 billion more than a third of the budget. Under the health department salaries and wages accounted for 2.7 billion, 23 million was also allocated for medical equipment. Notably funds were also set aside for free healthcare for children under 6 and those aged over 65, employing more health workers and construction of Machakos cancer center. Education docket received 369 million which prioritizes ECD, bursaries and rehabilitation of polytechnics.
Roads, Transport and Public works received 1.049 billion with among the highest development percentage of 77% for building and maintaining the road networks. The water and irrigation department was allocated 568million with 400 million going to constructing and maintaining boreholes and dams. The agriculture docket received 531million with focus on rehabilitating dips, increasing productivity, extension services and fruit and dairy processing. The trade docket received 310 million. Key areas included, development of market centers, 250 million for infrastructure to 'attract investors'.
The office of the Governor received 628 million with allocations for furniture (8 million) and 45 million for advertising and 66 million for travelling raising eyebrows. Public service and ICT received 803 million. Finance docket received 508 million, with 13 million allocated for software. Tourism, Youth and sports got 85 million. The county assembly and the lands department got 1.1 and 1.2 billion respectively.