Residents of Kitui County have been blamed for dropping the guard and not adhering to Covid-19 directives by the County's Health Chief officer Dr. Richard Muthoka. Muthoka spoke to the press in Kitui after the County topped in daily Covid-19 cases with 54 people testing positive for the virus in 24 hours.
Confirming the results the Chief officer Health and sanitation said they took a total of 358 samples to KEMRI and 54 were found positive for Covid-19.
According to Muthoka, the samples were taken from people in different parts of Kitui county, following the contact tracing his ministry was spearheading throughout the county to avoid further spread of the diseases.
He revealed the cases are distributed across the county as per below; Kitui central 27 cases, Kitui East 10, Kitui Rural 5, Kitui west 4, Kitui south 4, and Mwingi 4.
"People have forgotten that corona is real and instead of wearing masks, keeping social distance, washing, and sanitizing their hands, they are taking it as a joke. They should be aware of this virus and strictly follow the guidelines to curb the spread," The chief officer said.
According to Health CAS Dr. Rashid Aman, 151 people tested positive from a sample size of 2,552 tested in the last 24 hours, bringing to 35,356 the number of confirmed positive cases.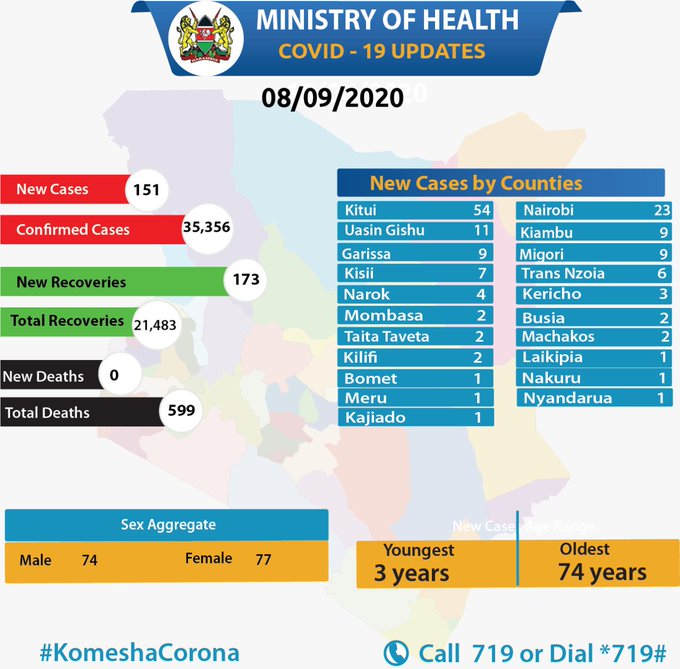 Last month, Kitui County confirmed 41 cases of Covid-19 from County and National Government officials after the ongoing testing in just a single day. The county headquarters were a week later closed for 2 weeks after more officers tested positive.