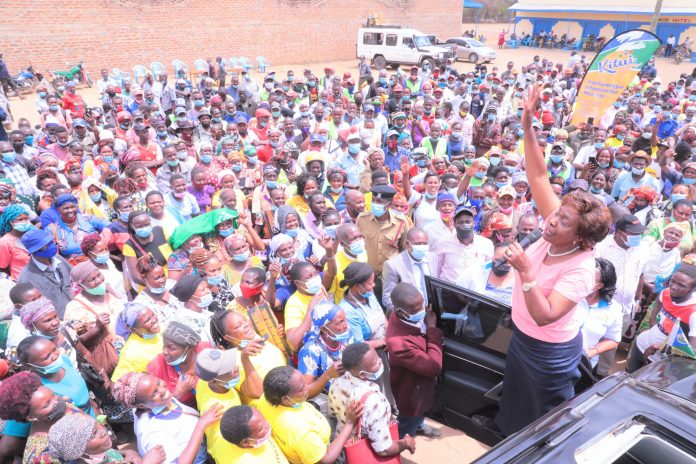 The rivalry between Kitui Governor Charity Ngilu and Deputy President William Ruto seems far from over. On Friday, speaking while launching livestock trucks in Kisasi, Ngilu made a public prayer asking God to do away with DP Ruto.
"Dead God please take Ruto from our midst. This is not a good person, he is a person who will bring trouble in our country. Dear God please take Ruto in your own special ways." Ngilu said while making the prayer.
"God give us leaders who will deliver us from poverty and leaders who will not persecute our people. He comes calling himself a poor man and we saw he own the entire country, choppers, businesses, chicken farm. Lord, this is a leader misleading Kenyans, God deal with him the way you can." Ngilu went on.
The prayer has resulted in mixed reactions and this is how some of her followers reacted;
Nyanbure Ndungu said, "Those trucks were for campaign ama for farmers ,Then why is the crowd not happy? You can tell as much
Bottom up is the model moving forward, Ruto is not an agenda."
Paul Muli said,"I think you will have to find somewhere to hide when Ruto becomes the 5th president. This is so unbecoming and unlike you my governor. Fight battles you can win or lose fairly…. Ligi yako ni Malombe, sio Ruto. Na Malombe is coming back stronger. Focus on your campaigns."
Thomas said, "Ombea adui yako aishi siku nyingi,lakini sio afe/mabaya mama. Hata kama in siasa,kumbuka mbingu haijui siasa. Hukumu ipo sio mzaha na Mungu hadhihakiwi,chochote upandacho ndicho utakachokivuna."
Robert Mukundi said, "Yet there is no medicine in kitui referral hospital both Ngilu and Ruto are useless politicians."
Deputy President William Ruto was also in Kitui Friday and addressed a rally in Kitui town after meeting organized groups.