Nepotism and favoritism claims have rocked Makueni County Assembly. Mauvoo News established that the County Assembly advertised 25 positions in February 2022 which were to be filled externally.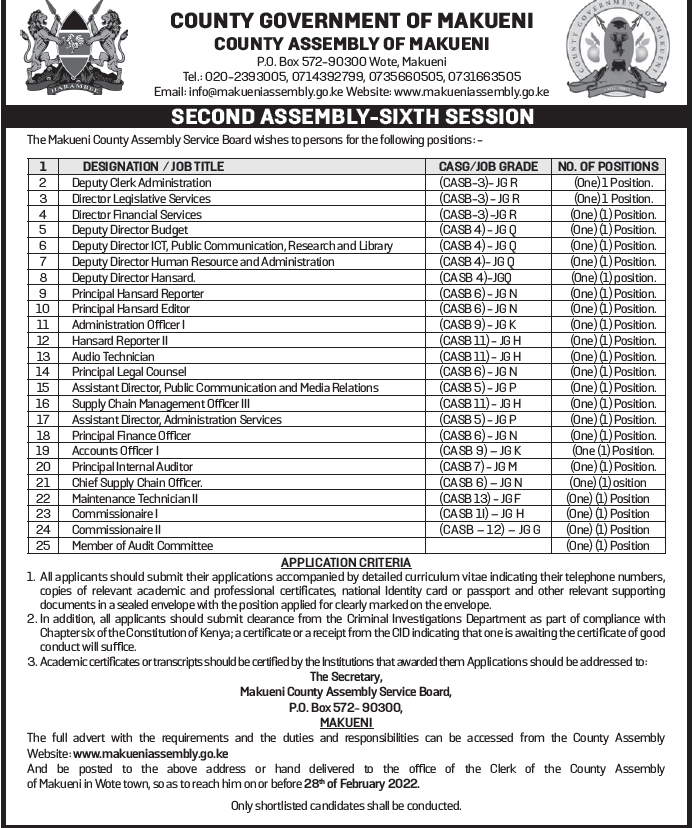 According to our sources, officers termed to be pro-government are alleged to be the biggest winners, and some relatives and friends of the board members.
Some of the friends and relatives are alleged to have been promoted twice in just 5 years. The county Assembly we have learned has 2 Deputy Clerks. In one scenario, a close friend of one of those in the leadership has been given the mandate to head a very key department despite holding a contested degree from a Ugandan university in a completely different field.
A former junior officer in the county executive is now a deputy director in charge of 4 departments of the Assembly. A former personal assistant of one of those in senior leadership was awarded the Assitant Director position with just 2 years experience, a position which should be held by a person with over 5 years experience.
2 Board members are also on the spot for allegedly employing their own children. One is also alleged to have pushed the promotion of a relative and another has gotten the brother to be employed as an Assistant Director in one of the departments.
Another senior officer allegedly got a former personal assistant employed as a Maintenance officer and a girlfriend, a former intern employed as an officer, a post said to require just one person and was already filled. Sources claim that she didn't apply and was not shortlisted.
It is also alleged that some tenders were awarded to those close to some senior officers but Mauvoo News cannot independently verify that.
A section of the aggrieved staff in the County Assembly who spoke on condition of anonymity claim that they will write to EACC and SRC to probe the matter.
Mauvoo News will also be investigating the claims more and reaching out to those mentioned for their side of the story.