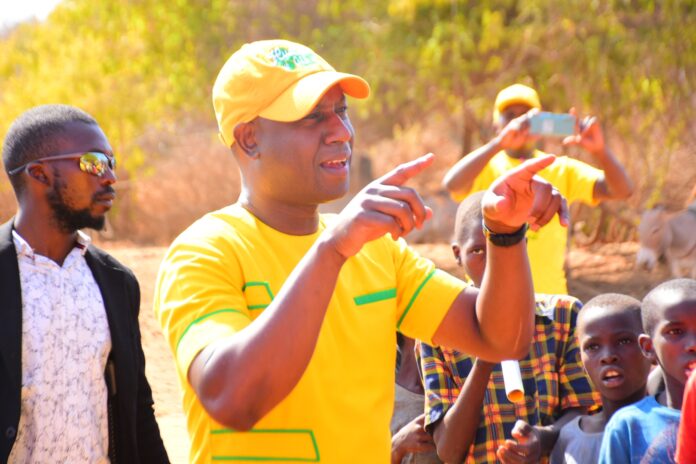 Former Nairobi Deputy Governor and Kitui Gubernatorial aspirant Jonathan Mueke has dismissed claims that Wiper leader Kalonzo Musyoka made him the Nairobi Deputy Governor during Governor Kidero's tenure.
Responding to claims from Makueni MP Daniel Maanzo that he was helped by Kalonzo and if it were not for Kalonzo he couldn't be where he is politically, Mueke told off Maanzo that he lacked the facts and details of what transpired before he was appointed Nairobi Deputy Governor.
"I was in Wiper in 2013 and also part of Kidero's campaign team and when Kalonzo teamed up with Raila he said that he wanted someone from Wiper to be the Nairobi Governor and Raila accepted although Kalonzo had no powerful person who can become the Governor. So they agreed that Raila will propose a Governor and the Kalonzo to give a deputy governor," he explained.
Mueke disclosed that Kalonzo proposed the name of Margaret Wanjiru who was in ODM as the Deputy Governor because Kalonzo had no one to propose. However, Mueke alleged that when Kalonzo gave Wanjiru's name, Ukambani professionals led by Mailu summoned him and asked him why he wanted to give the post to another person and not someone from Ukambani.
"Kalonzo was told that there was a young man called Mueke who had contested for Westlands seat and has a good following and then we met with him and removed the name of Wanjiru and put mine. After two weeks of the campaign, Raila called Kalonzo and told him that they need a Luhya Deputy Governor because they needed Musalia's support and Kalonzo accepted and replaced my name with that of Philip Kisia," Mueke narrated.

Mueke revealed that they tried talking to Kalonzo to support him to a point of sending former Kitui Senator David Musila but he insisted that they had already agreed with Raila that they choose Kisia and that Mueke will be given another post.
"The last day when Kidero was giving his papers to IEBC he called me and told me that he won't work with Kisia who is full of pride thus I'm his preferred running mate. When I asked him what Kalonzo will say, he told me that it was his (Kidero's) constitutional right to choose who he wants so he told me to come dressed in a suit we give the papers to IEBC. Kalonzo and Raila were watching me on TV after they had refused to propose me," Mueke went on.
However, Mueke stated that he doesn't have an issue with Kalonzo and he respects him although he was made Nairobi Deputy Governor by Kidero.
"I was the first deputy governor of Nairobi, being a Kamba although I was opposed by the Kamba leader we worked for hand in hand with him even after what he did to me. I was at the Wiper Summit and the Wiper National Executive Council and we worked together without any differences," he concluded.
Mueke spoke at a local political Show on Kamba TV station Mutongoi TV.