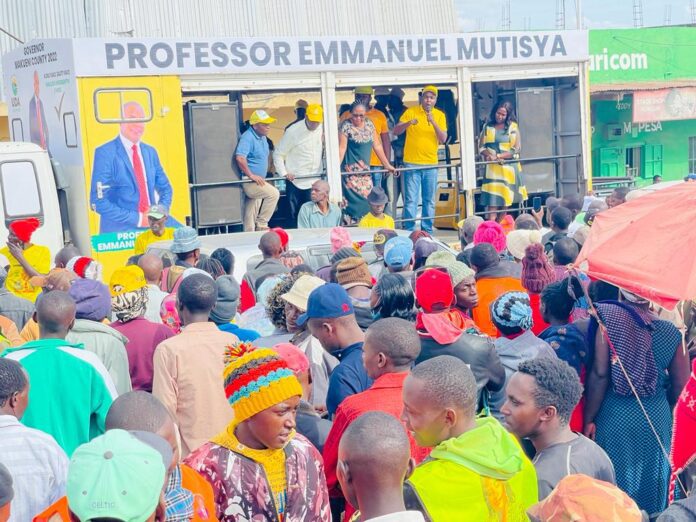 Several aspirants of the United Democratic Alliance (UDA) Party in Makueni traversed Kaiti and Kilome constituencies calling for voter registration to increase the region's voice in Kenya's political space.
Led by DP Ruto's point man in the County, Prof Emmanuel Mutisya, who is vying for the gubernatorial seat, the aspirants asked the members of the public to register in large numbers so that they can make informed decisions in choosing the next government, both at national and county level.
Prof. Mutisya was accompanied by other UDA aspirants who included Damaris Maweu (Women Rep), Faith Kinyumu (Women Rep), Stanley Kyungu (MNA, Makueni), Eng. Steve Mutevu (MNA, Kilome), Jackson Maweu (MNA, Mbooni), Eng. Brinton Muluva (MCA, Ilima), Christiano Ngila (MCA, Kilungu), Kelvin Musyoka (MCA, Kiima Kiu/Kalanzoni), Urbanus Matheka (MCA, Mbitini), Bonface Ndunda (MCA, Ukia) and UDA County Coordinator, Joseph Mulu.
The team traversed Malili, Mavivye, Nguluni, Watema, Kitandi, Nunguni, Kikoko, Kalongo, Kavatanzou, Kikuswi, and Kyambeke. They marketed UDA's so called bottom-up economic model. According to the group, the Kamba nation is lucky to be on the side which will form the next government, which they expect to have DP William Ruto as the 5th president.
"Our voice must be heard, our votes must count, and we must be part of the formation of the national government. We should together work together to form the county government so that our people can get the kind of development that they deserve", Prof. Mutisya said.
The Leaders also preached peace and unity during this electioneering period. They asked leaders in UDA to work together and ensure that we win the next election. They also implored Kalonzo Musyoka to join hands with DP Ruto for increased prospects of forming the next government.