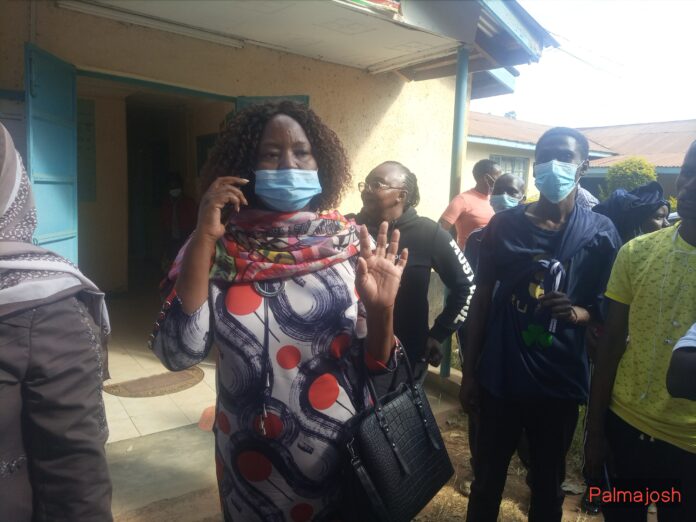 Kitui teachers college students on Monday (28th February 2022) held peaceful demonstrations lamenting that the school board of management led by their school principal has been neglecting them.
The students claimed that they have been trying to reach their school principal Catherine Irungu without any luck. They marched to the office of the County Director of Education to air out their issues only for the school principal to appear outside the office begging them to calm down.
However, the students furiously shouted her down saying that she was not available when they needed her. It took the intervention of sub-county director Madam Sano who calmed the irate students from shouting at the principal. They added that she has been out of school when they were ready to air out their grievances.
The main issues that they raised complaints about were fee increment without their consent, lack of balanced diet, sanitation in the school, lack of CBC writing materials, poor communication between the students, teachers, and the school management among other issues.
"Here in Kitui teachers college, we don't have enough water and they are forced to go and fetch water for us from Kalundu dam and it is not safe for use. The food that they serve us from Monday to Friday is ugali and cabbage and sometimes a few pieces of meat and for those who don't take meat are not provided with other proteins," a student who sought anonymity said.
The students also lamented that they had been informed that school fees had been increased yet they had not got the circular of where the fee will be allocated to. They also stated that they were to complete two terms for those doing CBC and later embark on teaching practice and up to date they haven't got any communication from the management. Instead what they were told is that they will have to go for another extra term and pay extra school fees which their parents were not informed of earlier when they were opening school.
Others furiously claimed that during the opening days when you've not cleared your fees you can't be allowed to access the school premises, "Some of us come from Bomet but when you come at the gate when you have not cleared your fees you're told to go home and the management is not willing to address the issue, especially the school principal who we rarely see at the school compound. Some teachers are also hostile to us. When we try to inquire something they threaten that they will forward our TSC numbers to top authorities so that we find it rough when being employed by the government, " another student alleged.
The County education officers agreed to have a meeting with the student representatives, lecturers, and the school principal to find an amicable solution.