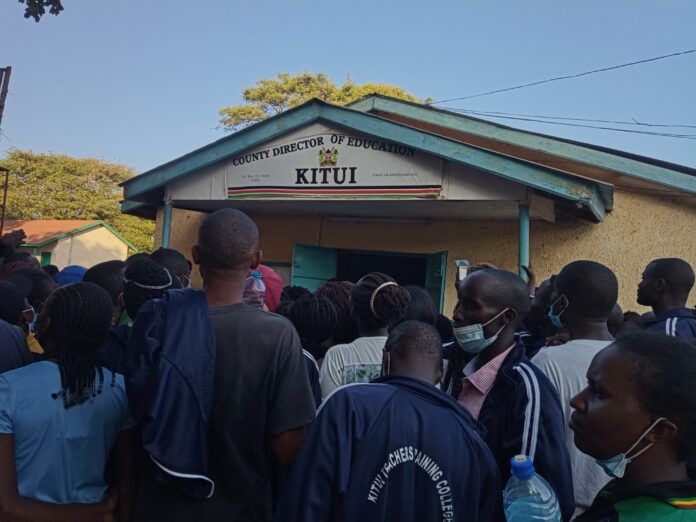 The office of the County Director of Education in Kitui has vowed to resolve the issues raised by the students of Kitui Teachers College who held peaceful demonstrations on Monday (28th February 2022).
The students marched from their school to the office of the County Director over to what they termed as poor communication from the school management blaming the school principal for neglecting them and not being ready to listen to them.
The students nearly chased Catherine Irungu their school principal who appeared at the county education offices and it took the intervention of the sub-county director of education to calm them. The students were later engaged in a meeting where they aired out their grievances to the county director.
Missed the story; check it out below;

Mauvoo News followed up to get to know the resolutions of the meeting held between John Gitonga the Kitui county director of education together with the students, and the college management led by the school principal.
Gitonga promised the students that their issues will be handled as soon as possible and taken into consideration and advised them to remain calm as they start solving them. The county education officers promised to visit the school to ensure that they engage more with the students and the school management and ensure what they agree on is implemented.
Wambua Mutinda one of the student leader who was among those who was involved in the meeting with the county education stakeholders speaking to Mauvoo News expressed his pleasure with how their issues were handled.
"We've come to this office of the Ministry of Education to get to know what has been happening in our school and tell them the challenges we've been facing like the school fees which we were told will be increased without a good explanation, lack of textbooks and other issues. The education officers have assured us that our issues will be addressed as soon as possible and we are confident that they all will be well as we wind up with our CBC training," he said.