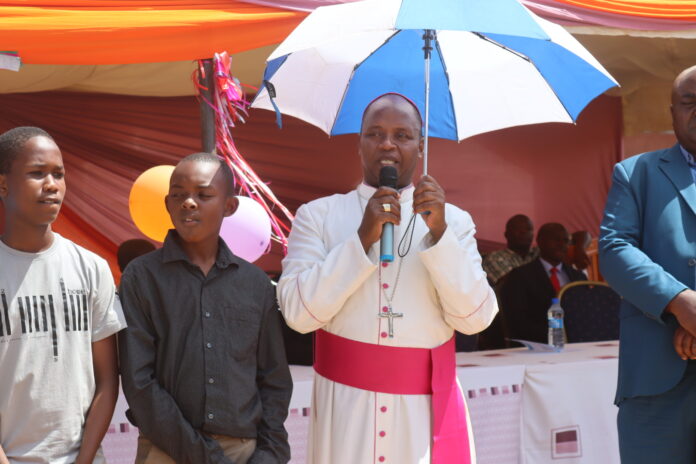 Bishop Joseph Mwongela of the Catholic Diocese of Kitui has called upon the security agencies to ensure that peace prevails especially during public rallies as the general elections approach.
Speaking during the official opening of St. Raphael Pre-School in Kitui, Mwongela reiterated that there have been cases of insecurity during political rallies and police should be at the forefront to ensure that there is peace across the country.
Bishop Mwongela also urged the youth not to allow it to be used by politicians to cause chaos in rallies.
"I would like to request Government Authorities and those in charge of security to ensure that there is rule of law. If there are cases of those who incite other people to cause chaos at public rallies they should be arrested, prosecuted, and when found guilty face the consequences even if it means paying fines. There will be impunity when someone incites people and doesn't face the law," Bishop Mwongela said.
He urged the youth to engage in meaningful activities that will make them busy instead of being used by the politicians to hurl insults, especially through social media.
"We pray that as elections approach and youths are the ones who are used by those eyeing for political seats who pay them to insult people on social media, let's have peaceful campaigns and we would like to ask the youths and the Boda Boda riders who are energetic to use the energy to build our economy," he added.
Addressing the media after the official opening of St. Raphael Preschool which becomes the 24th Catholic-owned private school in Kitui, he congratulated the Catholic schools which were among the top schools in Kitui County in the 2021 KCPE.
Katheka Primary School which is sponsored by the Catholic Church was the top public school in Kitui County. He called upon the teachers and parents to work together to give quality education to the children.
"Education is important especially here in Kitui where we don't receive adequate rainfall for farming and where most of us live in poverty but those who studied have improved their families through education. We are happy for those who performed well in their KCPE and wish them well as they prepare to join high school they being God-fearing students," Bishop Mwongela said.
He also urged those who own private schools to focus on giving quality education to the children instead of putting the parents' money first and also giving scholarships to the needy and bright students.