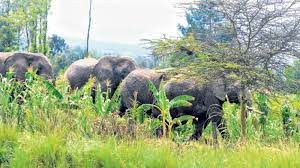 Farmers in Kibwezi, Makueni County have called upon the government, through KWS to act with speed and ensure that they evict a herd of elephants that has since destroyed crops they have planted on their farms.
Speaking to Mauvoo News, the farmers said that 7 elephants have been terrorizing them for a month now, invading their farms and causing havoc.
"These elephants invaded our farms and destroyed crops like maize, cassava, green peas, and also vegetables that we have been irrigating. They have been here for close to a month now but yesterday and today is when they really caused havoc," a farmer stated.
The farmers said they have suffered a great loss since they irrigate the crops and they incur costs to irrigate the farm products.
"We irrigate our farms at night but now because we fear the elephants, no one can dare go out to irrigate and the crops that we are irrigating are being destroyed by the day," another farmer noted.
They said that they are frustrated since all the relevant offices, from the area chief to KWS are aware of the invasion and they have not taken initiative to ensure the elephants are chased out of the farms.
The farmers also added that they are at risk of suffering famine since their source of food and income has been destroyed by the elephants.
"We are at great risk of having famine in this area. Our children are not going to school since we are afraid they might be attacked by the elephants. These crops are our source of livelihood as we even sell them to get school fees and other basic needs for our children. The Government should act with speed and ensure they chase these elephants before they finish us," Katile, a farmer and resident said.