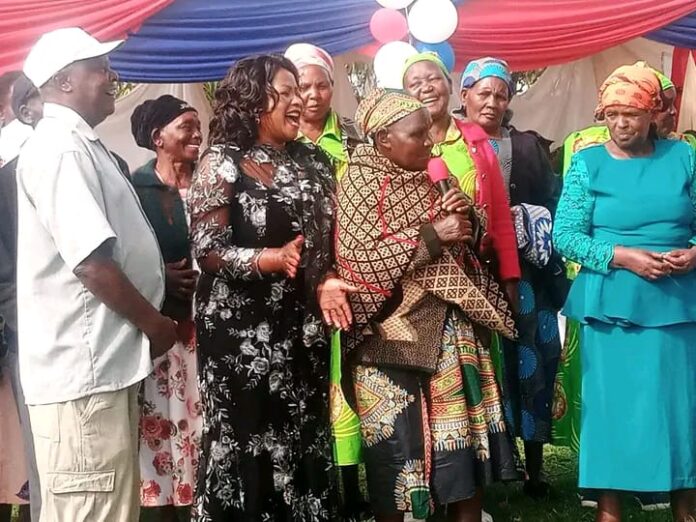 Machakos Gubernatorial candidate Wavinya Ndeti has said that apart from seeking to lead Machakos county, she will also be a mother of the County. Wavinya was speaking on Sartuday during the thanksgiving ceremony at the family home in Mua hills.
"I am coming to Mother Machakos County. It is time we change the system of leadership in Machakos. I am ready to work for you. I am patriotic to my County and Country too. Expect great things in Machakos. I will make sure that what has never happened in Machakos happens once I am elected." Wavinya said.

Wavinya said she was the best candidate for the position, asking Machakos people to vote her in on the 9th of August.

"If it's leadership experience, I am the right choice. I have been the Transport CAS, I was the Kathiani MP, and have been in the Government for long. I am your best choice when it comes to Machakos County Gubernatorial Seat." She added.

On Friday 15th April, Wavinya received Wiper Party direct ticket to run for Machakos Gubernatorial Seat after Mavoko MP Patrick Makau stepped down for her.

Following this, Wavinya Congratulated Makau for the brotherly act, saying that it is not so simple to step down in favor of someone.

"For a brother to step down for a sister is not a joke. I want to sincerely thank you Makau for stepping down for me." She said Friday.


The inner family cluster of "Mbaa Ndeti" declared that they have released their daughter to face off with other aspirants who have declared interest in Machakos County Gubernatorial seat

"And by this ceremony, we speak blessings and declare that our own daughter here has all it takes to capture the governor seat. As for us, we are committed to rallying our support to our warrior unto ultimate success," the Family representative said.

Wavinya is set to battle with Former State House Chief of Staff Nzioka Waita, Machakos County Deputy Governor Eng. Francis Maliti, UDA Chair Johnson Muthama among others.