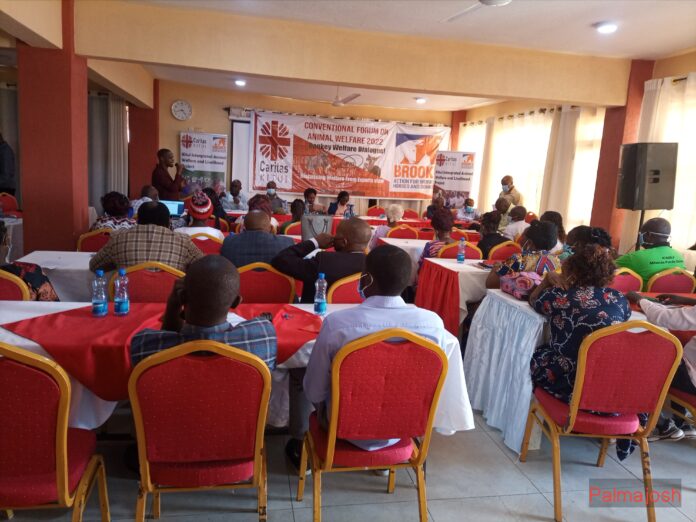 Caritas Kitui, the social and development department of the Catholic Diocese of Kitui on Friday held a forum to sensitize locals on the importance of donkeys as a resource and how the residents should take care of them.
The Annual Convention Forum on Animal Welfare was led by Florence Ndeti the Caritas Director who urged the residents to take good care of the donkeys since they are useful animals used on the daily basis, especially at the grassroots.
Through their hashtag #MtunzePundaDaima they advocated for fair use of the donkey to avoid donkey slaughter bearing in mind that there have been high cases of donkey slaughter after the opening of slaughter in Kithyoko, Machakos county which borders Kitui County.
According to reports from Caritas, it is estimated that the daily slaughter of donkeys rose to 1,000 hence it is a concern that their population may fall since the annual meat rate is at 5.1 percent compared to the 1.04 percent donkey population growth rate.
"We see it as a normal thing for those who have a donkey yet they serve as a cheaper means of transport and also enhance accessibility to areas that vehicles can't reach. A Donkey is important in our daily lives because most people use them to fetch water hence there is a need to pass this message to other people in the community and ask ourselves how our community will look like after slaughtering all the donkeys," Ndeti stated.
Florence expressed her displeasure with how Ukambani people are being persuaded to sell their donkeys to produce meat to other people yet leaving them languishing in poverty and thus people should shun selling the donkeys since the amount it is sold for is too little compared to the service that it gives for over 10 years.
Various stakeholders at the forum stated that from research carried out by experts from Kenyatta University who were also at the forum, Kitui county is one of the leading hubs for donkeys in Kenya where it houses 13.8% of Kenyan donkeys and this is as a result of the high demand and needs for donkeys in Kitui due to the arid climate, scarcity of water and economic activity like farming in Kitui.
The stakeholders also revealed that donkey is a factor in kitui county's economy since it greatly reduces workload and strain which reduces human capital and there is a direct relationship between lack of donkey and absolute poverty thus lack of donkeys can be an indicator of poverty.
The residents at the forum promised that they will take good care of the donkeys as they were educated and promised to pass the lessons to the community.
"I have learned a lot from this meeting, I know know that the donkey is an important animal in my family and I would encourage other people to take care of the donkeys and also avoid selling their donkeys since they help us daily," Mwikali Ndunda a resident from Kitui West told Mauvoo News.
Caritas was in collaboration with the County Government of Kitui and BROOKE action for working horses and donkeys and recommended that donkeys are more important when they are alive and there is a need for community awareness on the impacts of donkey slaughter on their livelihood.